Apply for a Woodstove Rebate
Community Wood Smoke Reduction Program
The 2023 program will be launching on March 1! Check out our latest article in the January edition of the Cowichan Valley Voice for a sneak peek at the new program!
2022 Community Wood Smoke Reduction Program
Are you ready to become more healthy and climate-smart in 2022? The CVRD can help by providing rebates to replace old, smoky wood-burning appliances as follows:
Heat Pump: A $2,000 incentive for replacing a wood-burning appliance with a heat pump. $1,850 is provided by the CVRD and a $150 discount should be offered by participating retailers.
Pellet Appliance: An $800 incentive for replacing a woodstove or an outdoor wood boiler with a 2020 or newer EPA-certified pellet stove or pellet boiler. $750 is provided by the CVRD and a $50 discount should be offered by participating retailers.
Wood-Burning Appliance: A $350 incentive for replacing:

an uncertified wood-burning appliance; or,
an EPA- or CSA-certified wood stove that is at least 5 years old for a 2020 or newer EPA-certified woodstove. $300 is provided by the CVRD and a $50 discount should be offered by participating retailers.
Apply for the CVRD Rebate!
Read the Program Guidelines to find out more about the rebate requirements before applying for a rebate.
Residents wishing to apply for rebates for replacing an old woodstove with a new woodstove are required to complete an online wood smoke education course to learn ways to minimize negative health impacts from wood-burning.
Stack Rebates to Reduce Costs!
Additional rebates (~$6,000) to support your healthy home heating system are available through the federal Greener Homes Program and the provincial BC Clean Homes rebate programs. Visit BC Home Energy Coach or phone 1.844.881.9790, who will help you navigate rebate options and maximize rebates!
Additional rebates to offset 80% of the upgrade cost (up to $12,000) are available through BC Clean Homes to support home heating upgrades within First Nation communities. Coupling this with a CVRD rebate may cover 100% of the upgrade cost!
Heat Pumps – Keeping you Warm in the Winter and Cool in the Summer
Heat pumps not only heat your home, but they also keep you cool during heat waves and can filter indoor air quality impacted by dust, pollen and wildfire smoke. Heat pumps may also reduce home insurance costs.
To learn more about how heat pumps can benefit you and the Cowichan Valley as a whole, click on the poster below!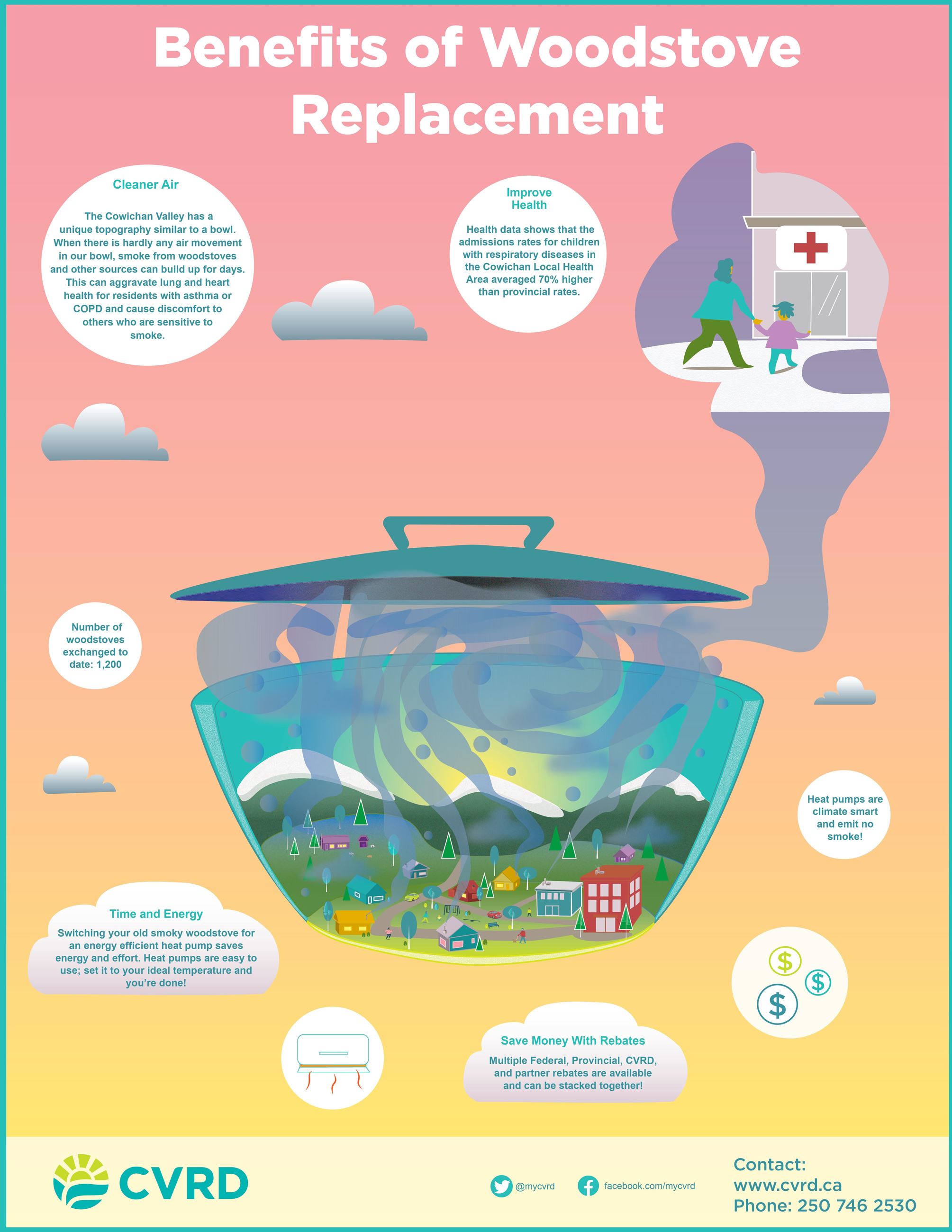 Tips for Reducing Air Pollution
Heat pumps are powered by clean, hydroelectricity which means that if you switch your current fossil fuel heating system (natural gas, propane or oil) to a heat pump, you'll be reducing your household's environmental footprint.
If you are considering a heat pump, this video, provided by Clean BC, the Regional District of Nanaimo and the CVRD, has lots of helpful information.