Recycling Centre Locations, Hours, Accepted Materials, and Fees
Recycling Centre Locations, Hours, Accepted Materials, and Fees
Beginning in 2023, the Recycle BC began accepting more items than ever in curbside recycling totes and at CVRD Recycling Centres.

Read on...

Due to a mechanical failure, CVRD curbside collection was not completed on Tuesday, January 31. If your material was not collected, we will be returning on Saturday, February 4.

Read on...
Due to several mechanical failures, CVRD curbside collection was not completed on Friday January 27 and Monday January 30. Residents on Neva Road in Youbou and Mill Springs area in Mill Bay will receive a rescheduled pickup day this week.

Read on...

The Cowichan Valley Regional District has updated the Curbside Inclement Weather Policy in anticipation of the cooler temperatures and snow in next week's forecast.

Read on...
Changes to Tipping Fees, January 1, 2023
Due to increased costs of collecting, transporting and landfilling solid waste materials, the CVRD Board has approved an increase to tipping fees at its collection centres beginning January 1, 2023. While the minimum tipping fee for disposal of garbage at CVRD collection centres will not increase from the current cost of $7.00, the cost per tonne will increase to $192. The disposal of commercial organics (food waste) will increase to $135 per tonne.
No asbestos-containing materials (e.g. vermiculite insulation, construction & demolition waste)
All loads must be secured & covered, unsecured loads may be fined
Garbage must be free from recyclables, garbage that contains recyclables will be fined
Garbage items must not be more than 1.25m (4ft) long or weigh more than 100kg (220lb)
No person may deposit prohibited waste, call the Recycling Hotline for questions
All dusty materials and fibreglass insulation must be double-bagged and securely tied
Children and pets must remain in vehicles at all times
COVID-19 Update
For the health and safety of staff and customers, Free Stores at the Recycling Centres are closed until further notice.
CVRD Recycling Centres & Drop-Off Depots
The CVRD operates three recycling and garbage drop-off centres in the region. For more details, navigate the tabs below.
Bings Creek Recycling & Waste Management Centre, Duncan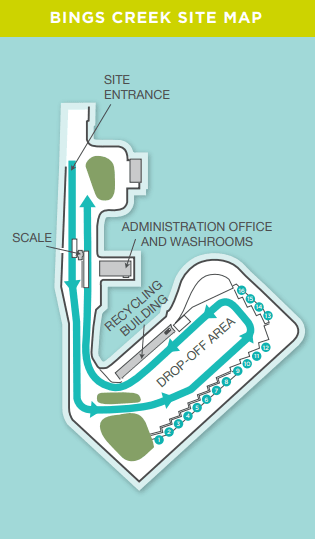 Address: 3900 Drinkwater Road, Duncan (Map)

Hours: Open every day 8 am to 5 pm

Closed on all Statutory Holidays, Easter Monday, Boxing Day and Truth and Reconciliation Day

Has Free Store: Yes (currently closed)

Note: Peak use occurs on Saturdays and Sundays between 10 am and 3 pm. Line-ups and extended waiting times can be expected during these hours.
Packaging, Paper, and Additional Drop-off Depots
Satellite drop-off facilities are available in Cobble Hill, Honeymoon Bay, and Mesachie Lake.
Fisher Road Recycling, Cobble Hill
Address:
1355 Fisher Road, Cobble Hill (
Map
)
Materials Accepted:
Free drop-off of residential recycling (items must be sorted). Visit
fisherroadrecycling.com
for a full list of accepted materials and hours of operation.